In
November 2009
, my lovely friend, Shelley, asked me to make a winter waistcoat for her. I very enthusiastically agreed and used the request as a great opportunity to head to Walthamstow High Street for the first time ever. (Of course, I hefted back armloads of fabric and notions, but '
that's another story...
')
Anyhoo: fabric, check. Lining, check Buttons, check. Thread, check.
('Passport, check! Camera, check! Traveller's cheques, check!')
Fast forward to
March 2010
when Shelley & I go to the V & A Museum for some birthday oogling and I spot the perfect pattern in
BurdaStyle 4/2010 (#135)
.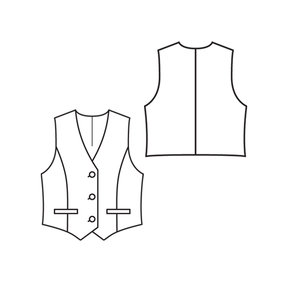 BurdaStyle 4/2010 #135
Fast forward to ... ummmmm ...
September 2010
when Shelley organised a pamper day at another friend's house and I actually get around to tracing the aforementioned pattern on the kitchen floor.
Tracing & looking like an egit
(Shelley actually took this pic!)
Due to the intense guilt of the 10-month long delay, I got my shizz together and sewed. Like, a lot. I lined, I interfaced, I made welt pockets (and then covered the shoddily-made welt pockets with lovely chocolate brown velvet ribbon). Aaaaaaaaaaand then I got stuck, pending a fitting.
Fast forward to
July 2011
, the morning after
Rob's birthday party
, when I grabbed the semi-waistcoat and manhandled poor Shelley into the various layers. Minor adjustments aside, we were onto a winner!!
Final fast forward: to
Sunday
. After unpicking side seams & shoulder seams & side seams again (in an attempt to figure out how THE HELL you're supposed to freaking freaking freeeeeaaaaaking well turn the bastard thing right sides out), it was finally finished. And it actually looked pretty decent. I wasn't sure what to expect after all this time, so it was such a relief so see Shells happy with the end result!!

Happy Shelley!!

A-Hunting We Shall Go ...
so named as our friend Jason reckoned she looked like a "real English lady".
(This said to the vegetarian, wearing a waistcoat made by a vegan - LOL!)

Check out that lining ... and that facing!!!

Velvety chocolate pockets and lovely wooden-y buttons
Holy cow. I just noticed that I actually lined up the pattern, too! How the HELL did I do that??? Bahahahahahaa .... Yay!!
PS. Oh, one more thing. Back in May/June 2009, Shells & I spotted some felt brooches in Brick Lane Market that I reckoned I could 'make that for a fraction of the price'.
I, ahem, also didn't manage to deliver this item until Sunday. The fact that I made it from scraps (bottle green gabardine, waistcoat lining, waistcoat fabric & green felt PLUS a button I inherited from an amazing seamstress in Antwerp) in under an hour makes this all the more embarrassing.
Icky picture, pretty flower brooch thingy